HotelTonight: Book amazing deals at great hotels
Booking App – Book the Best Hotels for a Discounted Price
If you are planning a vacation in a new city or country and want to book a hotel to stay at then this booking app can be a real lifesaver for you. HotelTonight – Book Amazing Deals at Great Hotels is a useful app which allows you to book hotels in different parts of the world using your phone. It lets you find discounted deals at some of the most famous hotels and enables you to book rooms there within seconds. You would be able to save a lot of money by searching for hotel deals on this app. There are various options available to you which make it easier for you to choose a hotel that is best suited for your specific needs.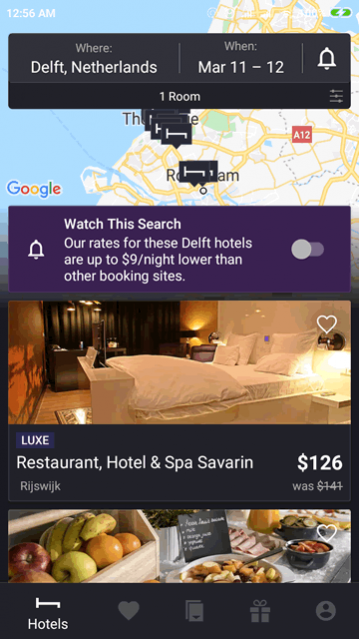 HotelTonight – Book Amazing Deals at Great Hotels has an intuitive user interface and is also very easy to use to thanks to its user-friendly layout and design. You won't have any difficulty in booking a hotel room using this app even on your first try. The home screen of this booking app provides a search bar for you which can help you in finding a hotel in the area of your choice. You just have to type the name of the hotel, neighborhood or the city you plan on staying at in the search bar. The app is going to find the best deals for you within seconds. They will be listed on the home screen for you. You can also search for hotels based on your location too.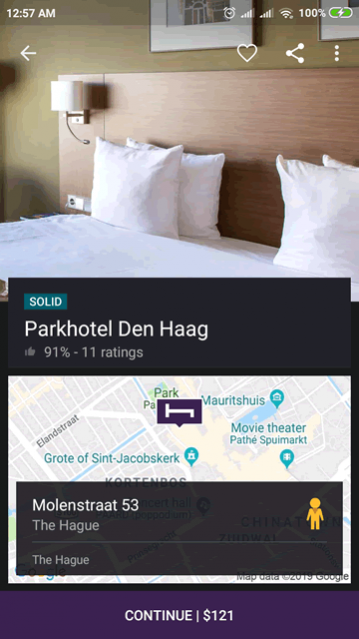 This booking app makes the hotel booking process easier for everyone. All you have to do is to tap on the name of the hotel and within a few clicks, you will have booked it in advance. Do keep in mind that you need to sign in before you are able to complete the booking process. However, before you get to book the hotel, you can check if it is suitable for your specific needs or not. You can do this by checking out the hotel descriptions. In this section, you will find the best features that the hotel has to offer. There are photos of the hotel available too which can give you a look at the room you will possibly be staying in.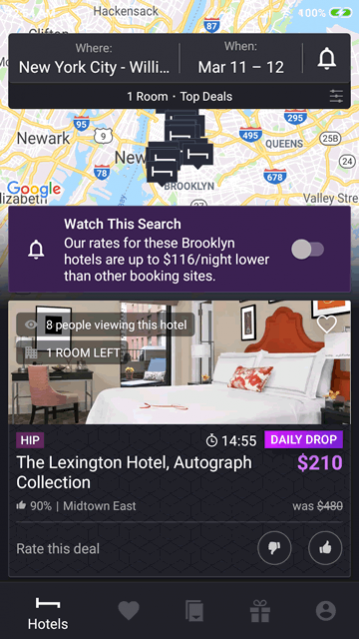 HotelTonight – Book Amazing Deals at Great Hotels ensures that you get the best hotel which delivers on its promises. This is why it offers reviews of the users who have actually stayed at the hotel. You can find these reviews under the hotel description and the hotel's list of amenities. These reviews can help you in finalizing your choice. If you have any confusions regarding the hotel booking process, you can always contact the customer support offered by this booking app. This support is available 24/7, so you can reach them at any time. You can access this option by clicking the menu button located at the top-right corner of the app's home screen.
Features:
Intuitive user interface
User-friendly layout and design
Search for your favorite hotels
Various hotel categories to simplify your hotel search
Find out deals at great hotels everywhere
Rooms available at discounted rates
Book rooms quickly within a few taps
Customer support available all year round
Hotel descriptions describing its likable features
List of amenities available for each hotel
Hotel reviews submitted by users
Conclusion:
HotelTonight – Book Amazing Deals at Great Hotels is an app which is designed for people who have to travel a lot for business or pleasure. It offers them the chance to find great deals at some of the finest hotels all over the world and make bookings in advance at discounted rates. It is an excellent booking app and will come in handy if you are planning a trip abroad.
---
Add a review
Tell us your experience with
HotelTonight: Book amazing deals at great hotels
RELATED PROGRAMS
Our Recommendations
---
---
---
---